The question asked by parents everywhere. School buses transport our nation's most precious cargo. Take a moment to read this article on the real safety aspects of school transportation from Thomas Built Buses…
Each school day, school buses transport nearly 25 million students to and from school. Yet, the yellow school bus remains the safest form of transportation on the roads today. In fact, riding a school bus is 13 times safer than riding in the family vehicle. And students are 70 times more likely to arrive at school alive if they ride the bus versus driving themselves or riding with friends, according to the National Highway Traffic Safety Administration.
One of the primary reasons school buses are so safe is because they meet 42 Federal Motor Vehicle Safety Standards (FMVSS) – that's more than any other vehicle on the road! One of these safety standards is the use of compartmentalization, which is a unique form of "automatic" passenger protection with high-backed, closely spaced, well-padded, energy-absorbing seating specifically designed to protect children. This engineering concept is among the best safety innovations and is one of the main reasons that school buses are so safe – even without seat belts.
Thomas Built School Buses Are Safe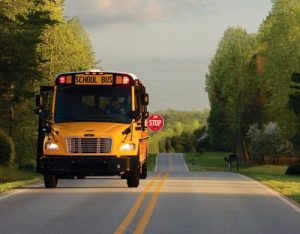 Starting with the design and build of our school buses—all Thomas Built buses meet or exceed rigorous FMVSS/CMVSS standards. But that is just the beginning. Thomas Built's Type C Saf-T-Liner® C2 school bus features Saf-T-Net construction, including side skirt reinforcement, extended roof bows and a welded header and rafter system to ensure maximum passenger safety. What does this all mean? Pretty much students riding the Saf-T-Liner C2 are enclosed in steel that extends below the floor to provide maximum support and safety.
And all Thomas Built Buses are secured with double-bolted body mounting clips (say that four times fast). These bolts provide superior and durable construction that protects the students riding in the bus today and also students riding in the same bus 20 years from today.
And don't forget about the small buses. Thomas Built's Minotour® and MyBus® are built with the strength of a full-size school bus with the added features of safety cage body construction with one-piece, skirt-to-skirt roof bows and two internal roof crash rails for rollover protection.
School Buses are Getting Safer Through Technology
School buses are built for durability and safety, and they keep getting safer and safer through technology. Thomas Built Buses invests in continuous improvements that make their school buses safer through state-of-the-art technologies and innovations. Some of the more recent safety innovations include:
Electronic stability control
Video cameras on both the inside and outside of the bus
Collision mitigation systems
Stop arm cameras
Student and vehicle tracking technology
Lane departure warnings
Many school buses across the country even have seat belts, either two-point lap belts, or more recently, three-point lap/shoulder belts.
Safe and Well-Trained School Bus Drivers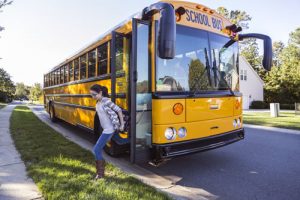 Safe driving habits complement the safety features of a school bus. All school bus drivers must have a Class B or C Commercial Driver's License (CDL) with a P (passenger) and S (school bus) endorsement on their license in order to operate a school bus. School bus drivers are also subject to random drug or alcohol testing, a driving record check and the same criminal background checks that teachers must undergo.
In addition, school bus drivers have extensive training on how to drive safely, as well as to monitor and protect the students onboard.
School Bus Safety Tips -How to be safe on and around a school bus
School bus safety is very serious to us at Thomas Built Buses. School buses are the safest way for students to get to and from school, however accidents still happen. In fact, most school bus accidents happen outside of the bus. That is why it is vital that passengers follow some basic school bus rules.
Be careful and take your time getting on or off the bus.
Pay attention to surrounding traffic. Look both ways for traffic before crossing the street.
Make sure that the bus driver can see them at all times.